2019 Foundation Female Sale
Sonderup Charolais Ranch Inc & Friends
Saturday, November 23, 2019
At the ranch west of Fullerton, Nebraska
Selling 35 open heifers, 35 bred heifers, 12 bred cows, and 50+ embryos
Catalog Coming Soon
Last year's catalog: Click here to download the catalog (6 MB)
Sale videos coming soon!
This year, the sale will be also broadcast online with videos of sale lots through DVAuction. Don't forget to register as a buyer before sale day at www.dvauction.com
Sale Order and Supplement Sheet
SCR Miss Buttercup 8119 ET
Birth wt. 85 lb., adj. weaning wt. 671 lb., ratio 100 (ET). This great heifer is a full sister to the high-selling open heifers in the last two sales. She has the eye-appeal and the growth potential.
FC Ms Tradition 8221P
Birth wt. 78 lb., adj. weaning wt. 669 lb., ratio 98.
Here is a really thick made, strong topped, calving ease heifer out of one of the calving ease sires we depended on for years – WCR Sir Tradition 6134.
SCR Miss Rapidfire 7122
Birth wt. 76 lb., adj. weaning wt. 681 lb., ratio 100 (ET).
Bred AI on 4/24/2018 to SCR Tuffy 0119 and PE to IKE Wrangler 7085. This is a high milk heifer that is out of Tuffy's dam and sells safe in calf with a line bred Tuffy heifer calf inside. Full sib embryos sell as Lot 55. Sells as a Choice Lot with Lot 35.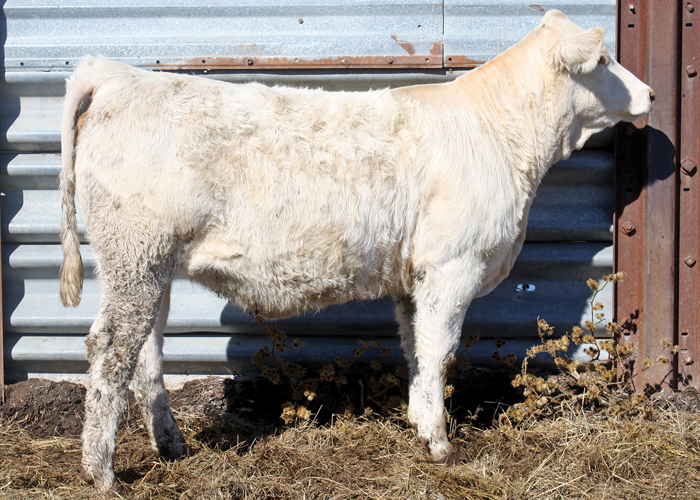 KKK Miss Nova 8301 ET
Birth wt. 80 lb., adj. weaning wt. 579 lb., ratio 100 (ET).
She is out of the dam of our tremendous herd sire Tuffy! This daughter of Casanova has a full sister that sells in the fall yearling heifer section as Lot 19. She is good hipped, correct and will really perform. Full sib embryos sell as Lot 57.
GS Ms Glossy 7015
Birth wt. 78 lb., adj. weaning wt. 739 lb., ratio 100 (ET).
These two ET heifers are sired by Smokester who has been a Milk Trait Leader in our breed for many years and still today ranks as the 14th highest Milk Sire of our breed. Smokester is sired by Cigar one of our breeds most popular bloodlines and out of JD Ms Commander B309 another donor dam of distinction.
Ms IKE Denver 7049
Birth wt. 89 lb., adj. weaning wt. 744 lb., ratio 117.
Bred AI on 5/24/2018 to LT Affinity 6221 Pld and PE to IKE Bluegrass 6127. The Eickhoff's have brought you three of their top performance bred heifers, all ranking right up there with the best of any herd with 700 lbs. plus weaning weights, yet still bred with calving ease. Her sire is a son of the National Reserve Champion Turton. Look her up sale day.
For More Information:
Sale Day Phones
(785) 672-7449 Greg Hubert cell
(308) 550-0254 Tom cell, (308) 550-0524, or (308) 750-3398