2017 Foundation Female Sale
Sonderup Charolais Ranch Inc & Friends
Saturday, November 18, 2017
Nebraska State Fairgrounds at Fonner Park, Grand Island, Nebraska
Selling 70 lots: Show heifers, brood cow prospects, bred spring calving heifers and cows, and composite heifers
Sale videos now online
Videos will be uploaded throughout the day on 11/12/17 – keep checking back for more!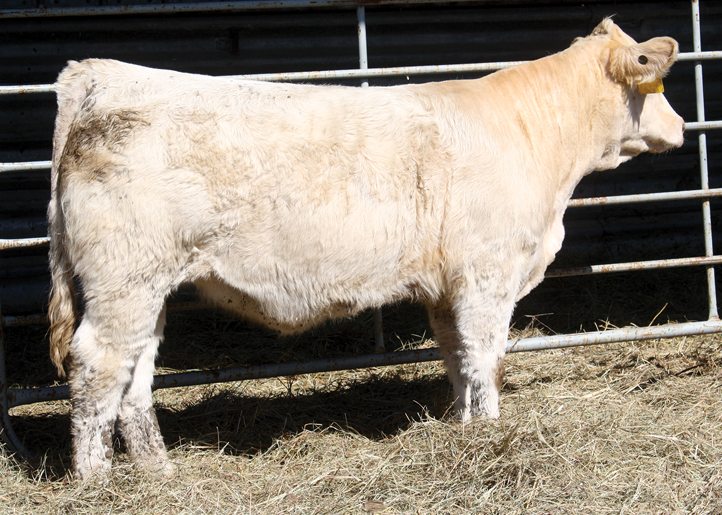 SCR Miss Casanova 7127
Birth wt. 82 lb., adj. weaning wt. 637 lb., ratio 96. A top Casanova daughter whose grand dam was purchased from us and went to Ryan Sellers where he put her into his embryo transplant program. The dam of this heifer produced us a tremendous daughter that weaned at 723 lbs. ratio 113 and sold to our good friends in Kansas, the Strnads.
FC Ms Bronco 7238 P
Birth wt. 88 lb., adj. weaning wt. 675 lb., ratio 103. She is a grand daughter of our $20,000 SCR Bronco 9026 herd sire that topped the SCR Bull Sale a few years back. Her dam also sells as Lot 58. A good cow we purchased from fellow Nebraska breeder Larry Dybdal.
FC Ms All State 7218P
Birth wt. 94 lb., adj. weaning wt. 721 lb., ratio 111.
This heifer has all the makings of a future donor in the future. She is the natural born calf out of our #740 donor and is sired by the high selling bull in 2016 Nebraska Cattleman's Classic Bull Sale at $11,000 selling to Triple C Charolais in Canada.
FC Ms Tuffy 6202P
Birth wt. 90 lb., adj. weaning wt. 703 lb., ratio 101.
Bred AI on 5/17/2017 to SCR Stoneridge 3171 and PE to WCR Sir Tradition 6134 P. This good bred heifer was on her dam as her first calf and she brought her in with a 700 lbs. plus weaning weight. Her dam also sells as Lot 55.
LKD Miss Independence 378
Birth wt. 94 lb., adj. weaning wt. 594 lb., ratio 103.
PE to SCR Tuffy 0119. We purchased this cow as a heifer and couldn't be more pleased with her from Dybdal Charolais and she has been a heavy milker. A consistent calving interval: 2-4-15, 3-7-16 and 2-25-17. The last two calves had adjusted weaning weights of 709 lbs. ratio 107 and 715 lbs. ratio 108.
FC Ms Turbo 740 P
Birth wt. 89 lb., adj. weaning wt. 667 lb., ratio 96.
Bred AI on 5/11/2017 to SCR Tuffy 0119 and PE to SCR Tuffy 0119. A proven donor for Sonderup Charolais and a paternal sister to the great SCR Miss Turbo 7003! She has sent two show heifers to Texas, one show heifer to Taylor Husz and one show heifer to Kentucky. Twice two of her progeny were the #1 weaning weight ratio in the entire calf crop in 2015 and 2016 with weights of 715 lbs. to ratio 111 and 776 lbs. to ratio 109. In 2017 two of her ET progeny a heifer weaned at 721 lbs. ratio 111 and one bull calf weaned over 800 lbs. She regularly produces 12 to 20 embryos per flush! Look for her embryos that sell!
For More Information:
Sale Day Phones
(785) 672-7449 Greg Hubert cell
(308) 550-0254 Tom cell, (308) 550-0524, or (308) 750-3398